Whether you're an avid and advanced-level golfer or you're just starting up the game, you're probably looking for courses that will offer the best play for your skill level, the best clubhouse amenities or practice facilities, and the best natural beauty of the desert. Here are 7 amazing golf courses in the Palm Springs area that you really have to play.
7 Palm Springs Golf Courses You Must Play
1. Desert Willow Golf Resort
Home to two of the area's finest and most spectacularly beautiful courses, Desert Willow is undeniably one of the finest clubs in the Coachella Valley. Stunning landscaping and spectacular mountain views create an unbeatable balance of beauty and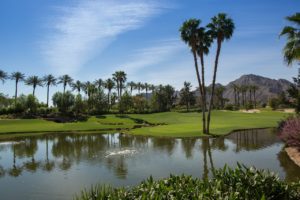 challenge. Start with the more forgiving Mountain View Course or jump into the demanding Firecliff.
From its alluring clubhouse to its difficult yet beautiful Jack Nicklaus designed course, Escena offers much to love. The undeniable challenge of the course has lead it to be named among PGATour.com's top courses in Cali, while its amazing amenities and beautiful homes make it a truly spectacular place for a vacation home.
Home to two courses, the easier Clive Clark Celebrity Course and the challenging John Fought Players Course, Indian Wells Country Club is surrounded by the scenic beauty of arid desertscape and jagged mountain backdrops. Both courses have been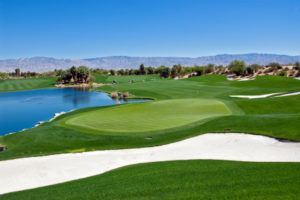 named among the Top 20 Courses in California, and the accompanying community amenities (think: dining, fitness, events) and stunning homes make it another top choice for vacation homebuyers.
5. La Quinta Resort & PGA West
The five courses of PGA West each offer their own unique desert landscaping and course challenges. Big names like Pete Dye, Arnold Palmer, Greg Norman, and Jack Nicklaus bring some heavy-hitting course design for truly spectacular play. In fact, the Tournament Course and TPC Stadium rank among the toughest courses in the country.
6. Shadow Ridge
Home to one of the valley's premier practice facilities, Shadow Ridge is a top spot for golfers looking to develop and hone in on their game—especially their short game. Its Nick Faldo designed course is somewhat known for its demands of players' short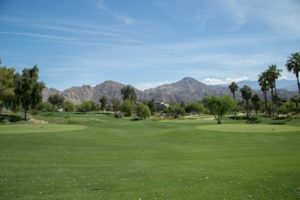 game creativity. Its steep course and sand traps have earned it a place among the Top 20 Courses in California.
7. SilverRock
One of the longest tracks in Southern California, Silver Rock is wound stunningly into the base of the Santa Rosa Mountains for truly scenic and spectacular play along Audubon-certified grounds. The Arnold Palmer designed Classic Course starts off soft and finishes with a challenge, presenting opportunities for both more beginner and more advanced players. Plus, as a public city-owned course, its rates are much more affordable than many private courses in the Valley.
Ready to Spend Your Days Golfing in Palm Springs?
Whether you're ready to buy a home and retire to the blissful lifestyle of Palm Springs or you're simply searching for a part-time vacation destination, Zwemmer Realty is here to help. Give us a call or browse our resources to learn more about the area, explore its neighborhoods, and find the perfect home for sale.